[vc_row][vc_column][vc_column_text]
The sweet wine of Malaga
We have won again! Yes yes!!! Oro Viejo and Pajarete Quitapenas, Malaga's best sweet wine.
First of all, it must be said that there is no greater pride for our entire team than a recognition of our work and effort, in the search for quality and exceptionality. But when, in such an important event for Malaga wineries such as the Taste of Malaga Awards, it's for the second year in a row… it's a great success.
Last July we won the Sabor a Málaga award for the best sweet wine in Malaga. This time it has been for our 5 year old wine Oro Viejo. We also had another great surprise: the recognition with a special mention for its quality to one of our most popular elaborations: the Pajarete Take off.
Oro Viejo, a 5 year old wine.
The Oro ViejoIt is a sweet wine with more than 5 years of aging. According to the Malaga Regulatory Council, vintage wines are those that have been aged for 5 or more years. It is made with mothers over 20 years old and its upbringing is considered as dynamic upbringing by the system of criaderas and soleras in old 500-liter boots over 80 years old. All this makes it unmatched and unique. Perfect for marrying with chocolates, cakes, pastry creams, fruits or even strong cheeses. The sweet dessert wine that we recommend to close a good meal.

2-year-old Quitarete
Next, the other wine we are referring to, our Pajarete Take off. Unlike Oro Viejo, it is considered a noble sweet wine, according to the regulations of the Regulatory Council. It has a static aging of two years, that is, the wine remains without any transfer for two years in 250-liter barrels.
This wine has been a re-launch as a new project, where, after researching for months, we recover the centennial elaboration that was made in the winery more than 100 years ago. We adapt it to the latest techniques in innovation and elaboration of our winery and as a result, a super elegant and unique wine. A true oenological gem.
As it is a semi-sweet, we recommend pairing it with, for example, a dish from Los Montes, some crumbs, rice dishes, sausages ... although it is also perfect to close the meal.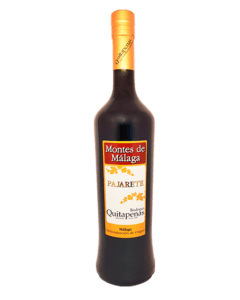 Finally, our passion and affection for our wines has its reward. And it's not just the awards and honours obtained over the years, but rather, verifying the satisfaction of our customers when they drink a sweet wine barely, turning the fact of drinking wine, into an authentic Barely Removing Moment.
Cheers Friends![/vc_column_text][/vc_column][/vc_row]