Do you know which is the perfect wine as an aperitif or dessert? Today we present our wine Quitapenas Málaga Dulce.
Sweet Malaga Wine, the sweet wine Quitapenas with denomination of origin Málaga.
Today we are here to talk to you about one of our best sweet wines, Málaga Dulce wine.
It is a 12-month-old liqueur wine that has the Málaga denomination of origin. It is made with top quality 100% Pedro Ximénez grapes, from the north of Malaga.
The process by which this Málaga Dulce wine is made is the assembly of a selection of several high-quality natural sweet wines. Subsequently, oxidative aging is carried out in American oak casks with a duration of 12 months.
As for the pairing of the Quitapenas Málaga Dulce wine, it has the well-deserved reputation of being a dessert wine. Despite this, it pairs perfectly with puff pastry, strong or slightly spicy blue cheeses, dark chocolate, biscuits or creamy ice cream. Another option would be as a base for making Pedro Ximénez reductions.
It is a very versatile wine to enjoy as an aperitif or as a dessert.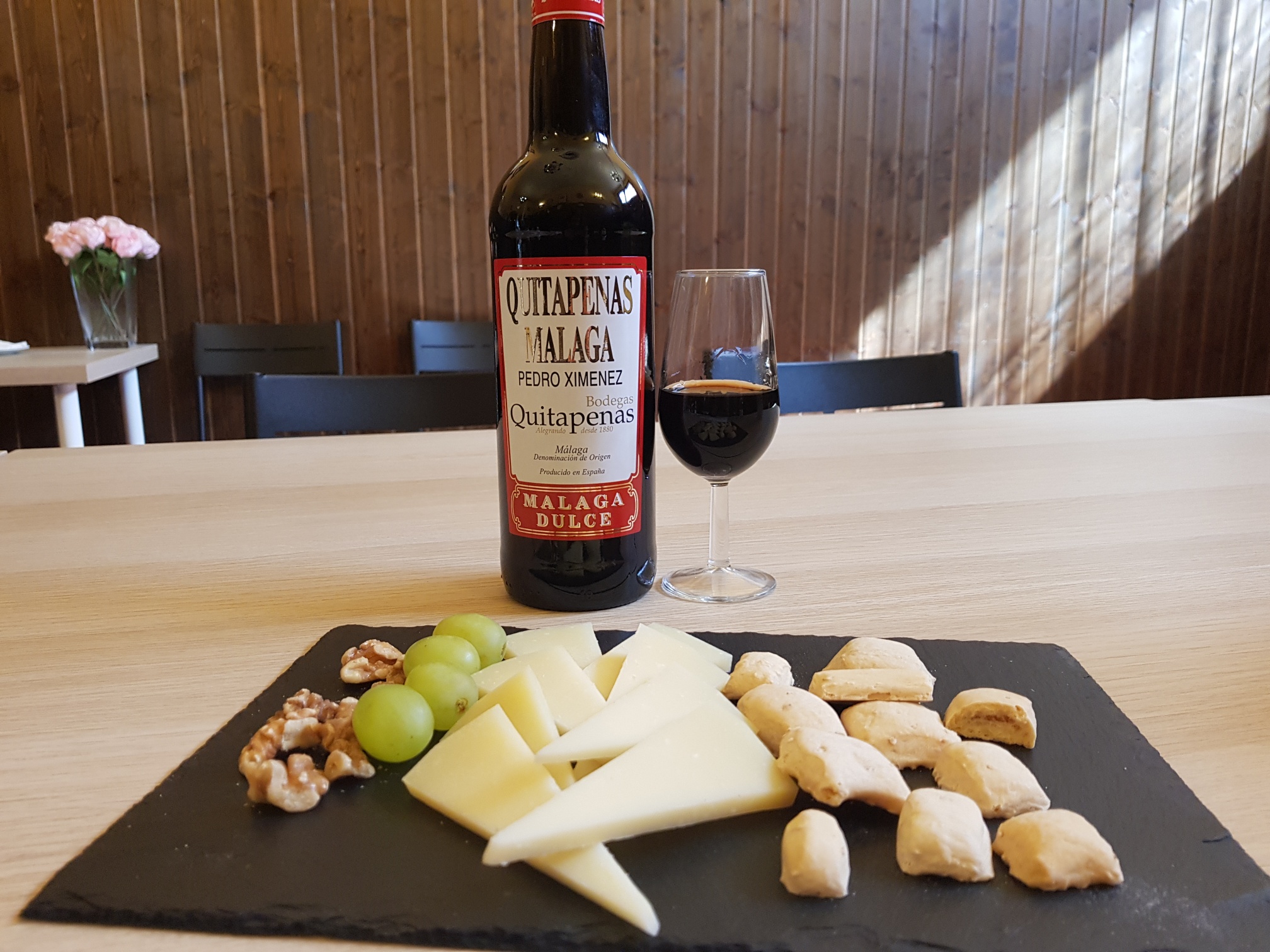 CATA's notes
Now that you know the Quitapenas Málaga Dulce wine, we will do a fictitious tasting so that you can see, smell and taste our wine from your own home.
Visually it is a dark mahogany wine but with iodized reflections. It could be defined as clean and bright.
Olfactorily, Málaga Dulce wine has aromas of toffee caramel, raisins or dried figs. If we try to obtain deeper aromas from our wine, we appreciate hints of wood, spices, balsamic or roasted aromas.
Finally, the taste phase mainly transmits a sweet and smooth flavor.
Do not miss the opportunity to try this wine or any other in our taverns, located in the center of Malaga. There you can taste the best wines from our wineries accompanied by the best gastronomy from Malaga.
For more information on wines and wine tourism, do not hesitate to contact us.